Recipes
Recipes to use with our Organic Grassed beef and Lamb And our Pastured pork and chicken              ORDER OUR MEAT HERE

TO BE THE FIRST TO KNOW WHEN EVENTS ARE HAPPENING ON THE FARM SUBSCRIBE HERE AND I'LL SEND YOU MY LATEST FREE RECIPE BOOKLET..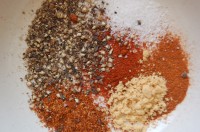 Homemade Spice Rub
Homemade  - less expensive plus you control the salt level. 
Prep Time 15 minutes
Servings 2 cups seasoning
Ingredients

3  Tbsp granulated onion or onion flakes
3  Tbsp black peppercorns
3  Tbsp granulated garlic ( or 2 tbsp. garlic powder
2  Tbsp smoked paprika (or regular paprika)
3  Tbsp kosher salt ( I use lemon pepper)
2 Tbsp chili flakes (cayenne pepper flakes or red pepper flakes also work)
3 tbsp mustard seeds
2 Tbsp coriander seeds
3 Tbsp dill seeds
Instructions

 grind each individual ingredient to a coarse consistency before blending them all together. This ensures that  a uniform size.
I use a mortar and pestle but this is not completely necessary. You can use a spice grinder, blender or food processor if you like but again I recommend, doing each one individually. I have used a coffee grinder..works fine. If you want a coarser rub grind all together
Blend all of the ground spices together well and store in an airtight container like a mason jar.
This spice blend will maintain its freshness for several months. Small 4 ounce mason jars make great host/ess gifts if you're invited to summer barbecues.
Recipe Notes
You can use salt and lemon pepper seasoning if you like a saltier flavor.
Pork tenderloin cinnamon and apple rub

 Ingredients:
1 to 1 1/2 pounds pork tenderloin
2 tablespoons cornstarch
11/2 teaspoon ground cinnamon
2 tablespoons brown sugar, coconut sugar or similar substitute,packed
2  apples any variety, peeled, cored and finely chopped

2 tablespoons dried cranberries or raisins, fresh grapes, or peaches even

Preparation:
Preheat the oven to 400°. Place the pork tenderloin in a roasting pan or casserole dish. Combine the remaining ingredients in a bowl and stir. Spoon the apple mixture all over the pork tenderloin. Cover and bake 30 minutes. Remove the lid and spoon the apple mixture over the tenderloin. Return to the oven and bake 15 to 20 minutes longer, or until pork tenderloin is browned and cooked through. A meat thermometer in the center should register  165°.
Serves 4
  Osso Buco – Braised Veal Shanks by Jamie Oliverthecooktwit.co.ukJessIngredientsIngredients to serve 4 osso buco, (cross-cut veal shanks, bone in, roughly 1.5kg in total – order in advance from your farmer)
1 whole nutmeg, for grating
plain flour, for dusting
2 knobs of unsalted butter
olive oil
2 onions
2 small carrots
2 cloves of garlic
2 sticks of celery
2 sprigs of fresh rosemary
200 ml Pinot Bianco , or Verdicchio (white wine!)
1 tablespoon tomato purée
1 litre chicken stock
For the gremolata:
2 small cloves of garlic   
30 g fresh flat-leaf parsley
1 lemon  
Preheat the oven to 180°C/350°F/gas 4. Season the ossobuco lightly with sea salt, pepper and a grating of nutmeg, then dust them in flour, shaking off any excess. Put your widest ovenproof pan on a medium heat with the butter and a really good lug of oil, then add the ossobuco, making sure they're not touching each other. Fry for 10 to 15 minutes, or until nicely golden, turning halfway – the more care you put into building up good colour now, the better the depth of flavour will be later.
While they're cooking, peel the onions, carrots and garlic, trim the celery, then finely chop it all with the rosemary leaves. When the veal has browned nicely, remove it to a plate. Drain away most of the fat from the pan, then add all the chopped veg and rosemary and cook for 15 minutes, stirring regularly.
  Pour in the wine and cook it away, then stir in the tomato purée and stock. Bring to the boil, using a wooden spoon to pick up all the sticky goodness from the bottom of the pan, then turn the heat off. Return the meat to the pan, cover with a damp sheet of greaseproof paper and tin foil, then carefully transfer to the middle of the oven. Cook for 2 hours, or until the meat is tender and falling apart – check on it halfway, adding a splash of water, if needed. If there is a lot of liquid I just put back on the hob and reduced it down, keeping the meat warm on a plate in the oven.  
  With about 30 minutes to go on the ossobuco, you could start your risotto allo zafferano (or your mashed spuds!) When that's done, to make a quick gremolata, peel and roughly chop the garlic with the parsley leaves, finely grate over the lemon zest, then chop and mix together until fine. Divide the risotto or mashed potatoes between warm bowls, then place the ossobuco on top. Season the cooking liquor to perfection (loosening with a few splashes of boiling water if needed) and spoon over the top, then scatter over the gremolata – as soon as it hits the heat of the meat it will explode with wonderful fragrant flavour. It's well worth doing the gremolata, it's easy to do and gives a real burst. Enjoy