Recipes
Recipes to use with our Organic Grassed beef and Lamb And our Pastured pork and chcicken

TO BE THE FIRST TO KNOW WHEN EVENTS ARE HAPPENING ON THE FARM SUBSCRIBE HERE AND I'LL SEND YOU MY LATEST FREE RECIPE BOOKLET..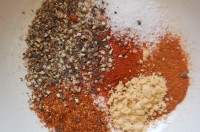 Homemade Spice Rub
Homemade  - less expensive plus you control the salt level. 
Prep Time 15 minutes
Servings 2 cups seasoning
Ingredients

3  Tbsp granulated onion or onion flakes
3  Tbsp black peppercorns
3  Tbsp granulated garlic ( or 2 tbsp. garlic powder
2  Tbsp smoked paprika (or regular paprika)
3  Tbsp kosher salt ( I use lemon pepper)
2 Tbsp chili flakes (cayenne pepper flakes or red pepper flakes also work)
3 tbsp mustard seeds
2 Tbsp coriander seeds
3 Tbsp dill seeds
Instructions
 grind each individual ingredient to a coarse consistency before blending them all together. This ensures that  a uniform size.
I use a mortar and pestle but this is not completely necessary. You can use a spice grinder, blender or food processor if you like but again I recommend, doing each one individually. I have used a coffee grinder..works fine. If you want a coarser rub grind all together
Blend all of the ground spices together well and store in an airtight container like a mason jar.
This spice blend will maintain its freshness for several months. Small 4 ounce mason jars make great host/ess gifts if you're invited to summer barbecues.
Recipe Notes
You can use salt and lemon pepper seasoning if you like a saltier flavor.
Pork tenderloin cinnamon and apple rub

 Ingredients:
1 to 1 1/2 pounds pork tenderloin
2 tablespoons cornstarch
11/2 teaspoon ground cinnamon
2 tablespoons brown sugar, coconut sugar or similar substitute,packed
2  apples any variety, peeled, cored and finely chopped

2 tablespoons dried cranberries or raisins, fresh grapes, or peaches even

Preparation:
Preheat the oven to 400°. Place the pork tenderloin in a roasting pan or casserole dish. Combine the remaining ingredients in a bowl and stir. Spoon the apple mixture all over the pork tenderloin. Cover and bake 30 minutes. Remove the lid and spoon the apple mixture over the tenderloin. Return to the oven and bake 15 to 20 minutes longer, or until pork tenderloin is browned and cooked through. A meat thermometer in the center should register  165°.
Serves 4